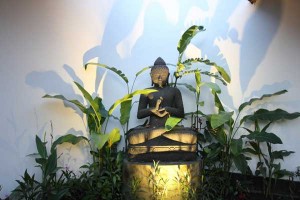 Ubud is a wonderful place to visit for those wishing to learn more about Bali's unique culture. This charming city is a beautiful collection of small villages in the south central area of Bali and well known for centuries as a center for arts, music and culture on this lovely Indonesian island. Ubud is a special community of artists, painters, carvers and musicians who practice and perpetuate the many remarkable and fascinating Balinese cultural traditions. The entire area is made up of markets, galleries, shops, restaurants, museums and temples thriving with activity that celebrates the gentle, beautiful way of life for these ancient peoples.
Ubud is such an interesting and distinctive place it has become a premier destination for those interested in visiting Indonesia. The many wonderful activities, lovely beaches, elegant hotels and numerous fine dining establishments in the South of Bali are also attractive and entertaining, but only Ubud offers a taste of something very different. The fresh air and beautiful natural environment, including pristine jungle, mountains, rushing rivers and elaborate traditional rice terraces found in and around Ubud make this area a compelling and relaxing vacation destination. In addition, Ubud features fantastic artistic performances and original cultural displays that can only be seen here. Not to be outdone, Ubud is also a hub of high-quality, delicious foods both from Bali and from around the world.
Come Stay in Ubud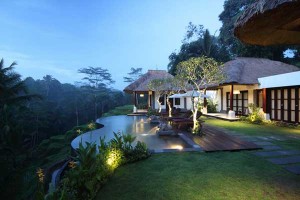 Needless to say, such an exciting and diverse location also has many great places to stay as well. There is such a wide variety of excellent choices of accommodation it can be a real dilemma for those considering where to stay in Ubud, Bali. There is an incredible selection of hotels big and small, covering the entire range from modest homestays to luxurious five-star private villas. No matter the price bracket everyone will find something enjoyable and memorable in Ubud. In such a great location, it is hard not to find a relaxing, comfortable and beautiful place to stay.
We have many suggestions for where to stay in Ubud, Bali, but it will obviously depend on who you are, what you want and how much you are willing to spend. Each person is different so it is hard to make a recommendation that will suit all people. Once you have spent some time in Ubud and explored the surroundings you begin to understand how to get the most on your trip. For those who visit for the first time, it is probably best to start by staying in or around the sacred Monkey Forest.
Some Starters
By no means the best hotel in Ubud, Green Field Hotel and Restaurant and Tegal Sari are two small local hotels with a lot of history and in the perfect location to take in the extreme beauty of the area. Positioned on the end of a wide swathe of jade green rice terraces the view is tremendous and the atmosphere tranquil. The rooms are not high-end, but they are big, clean and an excellent value. The Balinese staff is friendly and attentive. From these hotels you can easily walk to a host of fun activities, including the Ubud art market, the Monkey Forest, the Yoga Barn, BebekBengil (Dirty Duck) restaurant and much more. It is a nice choice for those who want to really see Ubud, but prefer to save some money for entertainment and eating.
A Little Upscale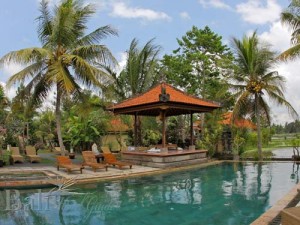 For couples who are eager to find a romantic getaway, but would also like to stay near the center of town, the Aston's Royal Kamuela Villas is a very good option. Also located just a short walk from the sacred Monkey Forest, this collection of 11 luxury villas is perfect for privacy and intimacy. The elegant rooms are large and well-appointed each with a private swimming pool. There is a lovely, complete spa on-site to serve guests as well.
The KomanekaBisma is not much further away, but the view is incredible. A massive infinity pool overlooking a beautiful river valley takes your breath away. The One-bedroom Villa is absolutely stunning with gorgeous views and a huge, premium living space made to luxuriate and pamper. The spa, restaurant and gym at the resort are all fabulous. Guests can also easily walk around much of Ubud's lovely tourist attractions. If you want to know where to stay in Ubud, Bali then you can consider these options.
More Great Options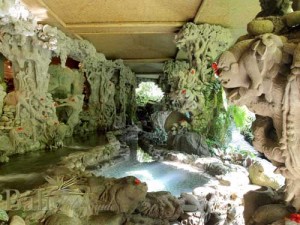 For others, a stay in Tjampuhan across the bridge and up the hill from the main part of Ubud may also be pleasant. This cool, leafy area is nice for short strolls. In this area, the Tjampuhan Hotel and the Uma Ubud are both excellent choices. Each a bit different, the TjampuhanHotel is rather modest, but possesses exceptional history. The hotel offers impressive traditional Balinese artwork, thatched grass roofs, an incredible spa and lots of ornate stonework and wooden carvings all set on a lush hillside boasting fantastic views.
The Uma Ubud, part of the Como Shambhala group, is a very well designed tropical hideaway with a big pool and lovely bar and restaurant perfect for couples who want to splurge. The Uma Ubud is a very nice place to stay for both luxury and convenience. Both hotels are within a short walk to the Neka and Blanco Museums and of course, Naughty Nuri's famous pork ribs, a supermarket, numerous art shops and a lot more.
Join Us
This is just the beginning of our effort to provide the best and most complete Ubud, Bali related information and resource. It is our pleasure to create an online journal to serve as a central location to collect Ubud related material. We hope you are able to learn a little bit and maybe even take something away. We know where to stay in Ubud, Bali and we want to share with our friends! We want visitors to take a chance to read our articles so that they may get the most from their trip to Ubud. It is our sincerest goal to add value to those who choose to visit Ubud! If you would like to submit your thoughts, comments or suggestions please feel free. There is nothing better than introducing this wonderful place to more people.