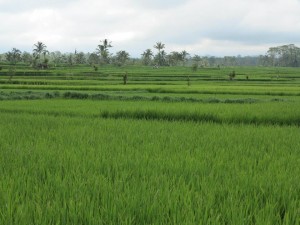 One of the greatest parts of traveling to Bali is the fantastic array of interesting places to see and fun things to do. In Bali you can go surfing, scuba diving, snorkeling, boating, jet skiing and even take a ride on a submarine. Other great activities like horseback riding, bungee jumping and parasailing are also available. Visitors can take a helicopter tour or go for a romantic sunset cruise on a private yacht. In Bali, it is even possible to dine with lions and swim with dolphins. The myriad of options is pretty amazing.
A vacation in Bali is an incredible experience for anyone young or old. If you are beach person you could travel the four corners of the island and find something new each day. That said, once you have had your fill of sun and sand you can head out to Ubud for a few days and try something new and different. The climate, geography, altitude and frequent tropical rains have made Ubud and the surrounding area beautiful and impressive. Rows and rows of amazing rice terraces interspersed with pristine tropical forest, rushing rivers and towering volcanic peaks in the background make Ubud a unique place to visit. Just like in the South of Bali, there are also many things to do in Ubud.
Explore Ubud
In Ubud, just a short walk can be a lovely experience. Taking off in any direction through any of the charming little villages can be a treat. Discovering many interesting, new things about the details of the daily lives of the local people is rewarding and educational. The ornate carvings and many statues adorning the entrances to their temples and ancestral homes are fascinating and attractive. As you pass the carefully tended rice fields, one can see birds, insects, frogs, cows and much more. The many curious dogs, standing guard for their masters, bark at the passersby.
If you want a full day of things to do in Ubud, Bali you can start out by heading for some white water rafting first thing in the morning. The white water rafting in Ubud is well worth the effort and great fun for just about anyone. The two and a half hour trip along the snaking river Ayung is full of beautiful views of the verdant valleys marked by the thrills of frequent rushing rapids and cool, refreshing waterfalls. The entire area is breathtakingly beautiful and will make a lasting impression on everyone. Average people who do this for the first time will love every minute of it laughing and smiling the entire way. In the end, you can take a dip in the river, shower off and enjoy a pleasant lunch of Balinese favorites.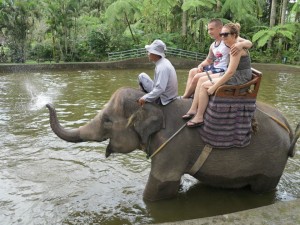 A Full Day of Things to Do in Ubud
Afterward, you might head over for an afternoon at the Bali Elephant Safari Park. Definitely one of the cooler things to do in Ubud, Bali, you will not regret it.Just a scenic twenty-minute car ride from Ubud, the rolling hills of Bali's countryside will give way to an enormous forested reserve created to protect and promote the conservation of Sumatran elephants. Saved from a life of hauling logs for a paper plant by an intrepid Australian man, there are 30 lovely male, female and baby elephants frolicking here. Well fed, well groomed, clean and humanely cared for, the elephants thrive and exude happiness. You can hand feed them, take pictures, ride them and even watch an entertaining elephant show. The gift shop, restaurant and miniature museum are all worth a visit. The park is great for at least one visit. There is even a lodge there for over night stays.
When you get back from your safari in early evening you will have just enough time to shower, clean up and head down to central Ubud to catch an entertaining cultural performance. The Kecak Trance and Fire Dance is one of the most impressive things to do in Ubud, Bali. You will not believe your eyes at the spectacle of dancers, actors and artists. The music is provided courtesy of several dozen shirtless Balinese men sitting in concentric circles rhythmically chanting a chorus of curious and mesmerizing sounds. Later you will see young woman and men in incredibly intricate and ornate costumes acting out scenes from the ancient Indian epic the Ramayana. The words and sounds are entrancing and catchy. The entire episode is one-of-kind.In the end, an actor dressed as though mounted on a horse, sweep in and stomps on and through a towering inferno of fiery coconut husks that spark and flame in every direction. No matter who you are or where you are from you will find this entertaining. There is no question that of all the things to do in Ubud, Bali, seeing a Kecak dance is a must see event.
The Best Thing to Do is Eat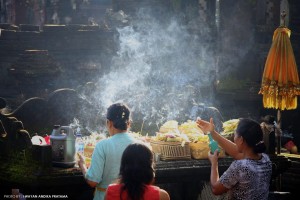 After the dance is complete you will probably have worked up a bit of an appetite. Being hungry is a great thing too because eating is one of the best things to do in Ubud, Bali.There is no doubt most people count the minutes to the next meal when here. There are so many choices of great food you will never be bored. Just a short walk down the road from the scene of the Kecak dance there are still many wonderful places awaiting your presence. You can have your pick of multiple countries, price levels and styles. One of our all-time favorites is Casa Luna. Grabbing a table in front to watch the people go by while sipping on a cocktail is a classic pastime here. We suggest you order a Rocket salad with parmesan to start and a delectable Tandoori chicken sandwich for your entrée. The succulent chicken is accented by the soft Turkish bread and fresh veggies in tangy cucumber yogurt sauce. Washing it all down with a Bintang is also a nice choice.
Remember this formula when you are looking for things to do in Ubud, Bali. This is just one of many programs we can devise. It is only a start but a fantastic one at that. Merely a suggestion for a day in Ubud. If you have ideas or recommendations please let us know we would love to hear and share them.