Ubud travel most common questions;
What Ubud places are nice to visit?

Ubud has been one of the top destinations, if not number one, in Indonesia for some time now. Year after year, foreign and domestic tourists alike flock to Ubud and the surrounding area for a taste of the traditional Balinese way of life. The fresh, clean air, picturesque vistas and interesting cultural sites attract visitors from far and wide. Perhaps best known as the heart of Bali, Ubud tantalizes with a unique mixture of fascinating arts, crafts and music, fantastic natural scenery and delightful array of colorful culinary options.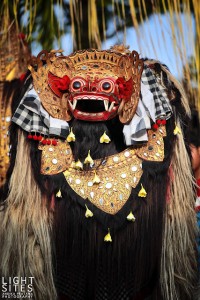 When asked what Ubud places are nice to visit, the first response might be "how much time do you have?" The fact is that Ubud is special in the world. There is scarcely another location on earth that is as lovely for as many varied reasons. Just walking around the city of Ubud is a treat. The interesting boutiques, galleries and markets are captivating. Each little street and walkway littered with tiny handmade offerings (canang) to the Gods, a reminder of the solemn faith the local people have in seemingly everlasting tradition. Throughout the city the many ancient temples are covered in intricate stone and wood carvings and adorned with colorful decorations.
Ubud is a lush and beautiful sanctuary nestled deep in the center of the bustling resort island of Bali. Ubud is tucked away, thankfully, a scenic one hour long journey from the hectic night life and busy beach scene in the South. Travelers often find much to be thankful for in Ubud. A celebration of life and small affirmation of the harmony that is possible between man and the environment. The blessings of climate and geography have made Ubud what it is, a collection of rural farming communities bound together by rolling hills of elaborate rice terraces and the love for their gentle way of life.
There are many nice places to visit in Ubud. Of course, the obligatory visit to the sacred Monkey Forest is always pleasing, and usually first. After buying some rhambutan to feed the mischievous macaques, taking a walk directly upward from the entrance to the forest is an excellent idea. All along this road you will see lovely little cafés, restaurants of all kinds, live music, bars, shops and much more. Half way up you will pass a football pitch. Here you may opt to change your course down Dewa Sita street for a tour of some even more interesting little places, including organic and raw foods sellers, souvenir places and crafts stores. Each turn will reveal something new and every path is worth seeing.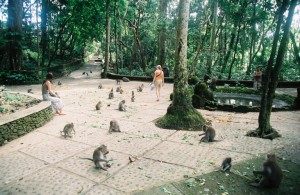 A bicycle trip, walk or even motorcycle or car ride to the jaw-dropping tiered rice terraces of Tegallalang is something no one should miss. A lush, fertile river valley cultivated since the 9th century, the area boasts some of the most spectacular scenery on the island. You will be amazed by the view and thankful for your visit. The walls of the valley are lined with an agricultural engineering masterpiece. This area is also the handicraft center of the island of Bali. It is very fun to walk up and down the street in this area and window shop. There is a wide variety of interesting arts and crafts for sale here and at some of the cheapest prices possible.
In the late afternoon just before sunset, a trip to the little village of Petulu is very nice. This area is well known for a natural phenomenon that has occurred for as long as anyone can remember. As you walk down a quiet, leafy green country road in the center of a quaint rural community, you can witness the flight of many large white birds. These big fowl are called Kokokan, a kind of heron that feast on snails, frogs, fish, eel and other small animals that live in the rice paddies. The birds are majestic and interesting to observe. Hundreds of them and their babies nest here in the high trees of this place. You can take a seat at the edge of a beautiful green rice field, drink a coffee or read a book, while group after group of the Kokokan fly back to roost for the night. You won't regret it.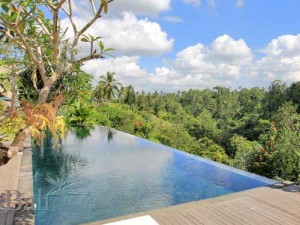 An excellent suggestion for a fulfilling day journey is a trip in the morning to go white water rafting. There are at least two areas near Ubud in which you can take part in such an activity. The river rushes, but is not dangerous. The beautiful forest scenery is captivating and refreshing. There you will see waterfalls and other interesting sights. Playing and splashing in the water is always a lot of fun for everyone. After a hearty lunch of traditional Balinese satay and other morsels, you can trek to Taro for a leisurely afternoon at the Elephant Safari Park. You will not be disappointed as the park is very professionally operated with immensely large, clean and beautiful grounds boasting 30 Sumatran elephants. The pachyderms are pleased to be hand fed, washed and cared for by guests and the park rangers. The show, miniature museum and restaurant are all excellent.
If you ask 'what Ubud places are nice to visit' then no stay in this town would be complete without a trip to the Ubud Royal Palace (Puri Saren). Set in the center of Ubud with a traditional art market in front of it, the Ubud Royal Palace is a lush, serene retreat in the heart of the city. A showcase of classic Balinese architecture, attractive landscaped gardens and the rich historical legacy of the local monarchy. After your visit here, in the early evening you may arrange to see the Kecak Fire and Trance Dance. A mesmerizing musical and cultural performance, the Kecak dance is comprised of many men in concentric circles chanting and moving in unison while actors in beautiful costumes perform parts of the epic Ramayana story. The fiery conclusion is an incredible sight well worth the time.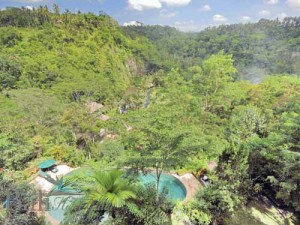 Lastly, a good meal is always one of the highlights of any trip abroad. In Ubud, this is equally true as the quality and variety of food on offer is impressive. There are some classics most people have heard of before, like Naughty Nuri's pork ribs or the suckling pig at Ibu Oka's. However, one great choice just a short drive out of the center of Ubud is Ayam Kedewatan. An unassuming little open-air restaurant serving up the best spicy shredded fried chicken dish you will likely ever taste. A heaping pile of fresh, steaming white rice, small green vegetable, peanut crackers and a cold Bintang will seal the deal.
It is not what Ubud places are nice to visit, but instead what do you fancy! From yoga to massage, health food, entertainment, exercise, adventure, shopping and much more, Ubud has something for everyone. A place to relax and rejuvenate or to explore and grow, Ubud is a one-of-a-kind.