Shops and Play in Ubud, Bali – Great Shopping and Exciting Outdoor Activities
If you're visiting Indonesia, take the time for shops and play in Ubud, Bali. Ubud is a small town comprised of several villages in the south central part of the island of Bali. Ubud has a population of roughly 30,000 local residents living in the city center. There are also a great number of expatriates who come to this area for yoga, workshops, wellness and to just get away from it all. Although it's a small town, there are plenty of great restaurants, bars, and shops scattered around the area. One of the most interesting shops in Ubud is Bali Treasures Drum and Percussion Shop. The shop sells virtually every kind of West African instrument. The owner of the shop and his staff also develop new and unusual percussion instruments. They are known to give impromptu concerts for various charitable causes around Ubud.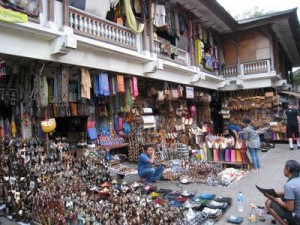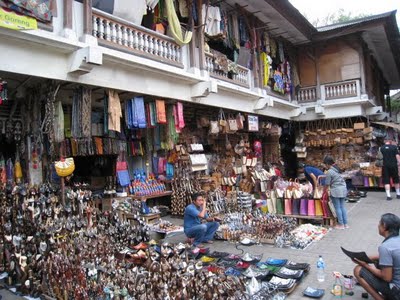 When you're looking for shops and play in Ubud, Bali, the central part of the city is the perfect place for tourists who love to shop when traveling. Numerous shops and galleries are located in Ubud, which is a center for handcrafts, art, carvings and various souvenirs produced in the villages that are located close to Ubud. Jalan Raya Ubud is the main street which is dotted with galleries, eateries and other tourist infrastructure. The Ubud Art Market is located on the main street and contains over 500 stalls selling almost anything you can imagine. There are also more shops located around Jalan Monkey Forest (Road). These consist of boutique clothing, housewares, jewelry and beauty and health shops. Further out from Ubud, you can find shops at Sukawati, Tegallalang, Celuk and Mas.
One of the places to visit to find shops and play in Ubud, Bali, is the Sukawati District. Sukawati is a huge traditional shopping center and local market which is the main location for silversmiths and goldsmiths in the region. On the main street of Jalan Raya Celuk, you'll find numerous workshops of gold and silversmiths and plenty of galleries to browse. Sukawati and Celuk are two locations that are usually included on itineraries for tour groups going to Kintamani and Ubud. The local craftsmen of Celuk create gold and silver jewelry and gift items adorned with elaborate designs. Many of the galleries of the gold and silversmiths are located in the front portion of their homes in glass encased displays. It is definitely worth a visit as the number and variety of things one can buy is impressive.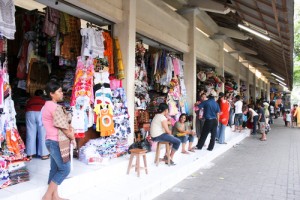 Shops and play in Ubud, Bali may also include fun outdoor activities. One of the favorite activities is the Bali Bird Walk. Several nature trails are located around Ubud, and you may see up to 100 different species of birds. Usually up to 30 species are spotted. The Scarlet-headed Flowerpecker and Java Kingfisher are among the varieties of birds in this habitat. Beautiful wildflowers, trees, and butterflies are along the trails. The walks take place on Tuesday, Friday, Saturday, and Sunday. Visitors should take care to prepare a hat, umbrella, water bottle and sunscreen.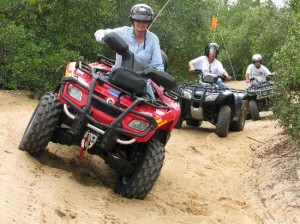 Another of the shops and play in Ubud, Bali activities that's fun and exciting is buggy and ATV rides. Ride to the middle of the island from a small village called Payangan, which is north of Ubud. ATV rides and rides in 2-seater buggies are available. During your ride, you'll be able to see rice fields, tropical jungles, and plantations. As you drive you will pass many interesting spectacles and be able to get a closer picture of the daily lifestyle of the Balinese. The vehicles used for the ATV and buggy rides are user friendly.
Before you depart on your tour, a practice lap will allow you to easily learn how to use the vehicle. As always, extreme caution is advised. Guests should remember to have fun, go slow and take in the breathtaking scenery. Guides who are experienced and know the terrain will lead the rides, and help you if you need assistance during the ride. Following your trip, a buffet lunch is served at the headquarters.
There are so many shops and play in Ubud, Bali the list could go on forever. If you travel to Kerta Village Payangan, which is north or Ubud, you'll thrill to beautiful scenery, canyons and hills, as you float down the Siap River in an inflatable tube. You are escorted on the trip by trained guides who provide safety equipment including helmets and life vests. The cool water and lovely environment make for an unforgettable time. The tour is offered by Bali Canyon Tubing that also provides the Bali Buggy and Quad Adventures tours. While floating down the river, you may see groups of monkeys in the trees and are likely to see some rare species of birds. Some of the other exciting outdoor activities in Ubud are cycling trips, mountain biking, and elephant safari rides.