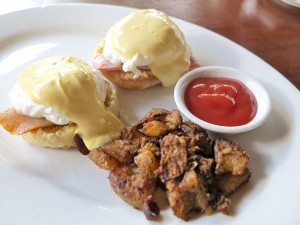 Ubud, Bali is located in Indonesia, situated amidst rice paddies and towering volcanoes with a population of about 30,000 in the city center. When you are looking for places to eat and drink in Ubud, you have numerous choices. There are a lot of great restaurants in this small town, with something to suit everyone's taste. One of the best places to enjoy perfectly cooked steaks is Des Artistes. The restaurant is designed to have the appearance of an indoor and outdoor garden. The restaurant also offers an extensive wine list. Des Artistes often hosts various exhibitions including painting, photography and design.
The Café Lotus is the perfect setting to have dinner or drinks prior to watching Balinese dances that are performed in the evening. It's located next to the Temple of Saraswati. There is a wide variety of Balinese cuisine and international dishes served there. The specialty of the restaurant is duck roasted with spices for a period of 24 hours (Bebek Betutu and Ayam Panggang). Some of the other great places to eat and drink in Ubud, Bali, are Pizza Bagus, when you are in the mood for traditional Italian dishes and cold draft Bintang beer! You have the option of creating your own pizza with your choice of toppings or trying the many tasty pasta dishes and beef or vegetarian lasagna. There's also a deli where you can create your own deli sandwich.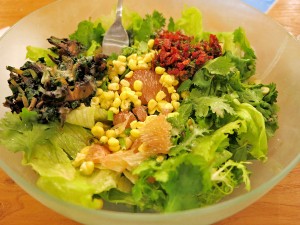 One of the interesting places to eat and drink in Ubud is Taco Casa and Warung Enak. Just a short five minute walk from Pizza Bagus, these two locations are both well worth a visit. You can have crispy tacos and cheesy burritos at Taco Casa or choose the Nasi Campur or other Indoneisian favorite at Warung Enak. You can eat inside the open-air dining area and watch the passersby or you can take your food out to enjoy while seeing the sights. When you're looking for the perfect spot for breakfast, lunch or dinner, the Cinta Inna is an excellent choice. This elegant little café is near to the town library and football field, and serves Indonesian and Western dishes. The eggs benedict and pumpkin bread French toast are delicious. The lunch and dinner menus often have specials, so there are a lot of options. Wi-Fi service is also available.
Places to eat and drink in Ubud, Bali, include some of the best and most interesting nightspots in Indonesia. The nightlife in Ubud has a more relaxed atmosphere than in many other places in Asia. Many tourists will spend time in an upscale lounge for drinks late in the evening. One of the most popular nightclubs in Ubud that serves a variety of great drinks, is the CP Lounge. This is mainly a nightspot for expats, local residents, and tourists. There is also one bar in front of CP lounge is the Lobung Café. You can often see live reggae music here as well. Boom Boom Bar is also a popular new location not far from the CP Lounge offering up nightly live music performances.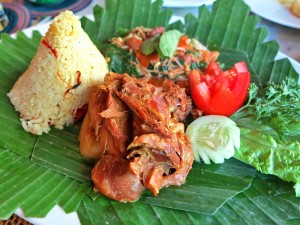 Another of the pleasant nightspots to go out for an evening is the Laughing Buddha. A large variety of drinks are available and Blues Night is every Monday. Another of the favorite spots to eat and drink in Ubud, Bali that's more upscale than many of the other bars in Ubud, is the XL Shisha Lounge. The bar opens in the afternoon and is open until very late. The décor of the lounge is Middle Eastern with a Bedouin-style tent effect. A wide variety of tapas, sandwiches, Indonesian specialties, and side dishes are served. House cocktails are served, and a limited wine list is available. There is also many varieties of flavored tobaccos guests may smoke using a water pipe.
If you want to eat and drink in Ubud, Bali in style, plan to dine at Bridges Bali. Casual dining in a relaxed, intimate atmosphere attracts tourists from all over the world to Bridges. The restaurant is located on the sheer face of the western bank of the Campuhan River with great views of the lush valley. A selection of Western and Indonesian dishes is available on the lunch and dinner menus. A variety of cheese plates can be ordered. Bridges also has several decadent desserts on their menu. Those wishing to dine here must make reservations! For small gatherings, the Royal Dining Room may be reserved. The Divine Wine Bar is one of the few wine bars in Ubud. The bar has an extensive list of wines from around the world. AT the Divine-Bridges cellar is the place where you can purchase the wines that are available in the restaurant.